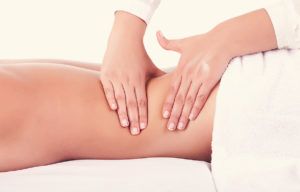 Palper Rouler is a French (as you could guess) manual technique, allowing to break adhesions between adipose cells (fat) underneath the skin and the skin itself to enhance their elimination.This technique is particularly useful to aim specifically for adipose cells and to protect blood vessel very fragile among women.
It is why, Palper Rouler is used against Cellulite! It eliminates the orange peel skin without damaging the skin or the blood vessel.
Lymphatic drainage is excellent before and after a Palpler Rouler to both diminish water retention before and clean out toxin after.
Ideally, these techniques should be followed by a specific work out to enhance blood circulation and elimination of adipose cells. You can have a look at this video to already now exercises to improve your blood return!
We offer home visit because we think it is more convenient for mummies and allow you to rest at the end of the session. But we also consult in our practices located in North london between Kentish town and Camden town and our Pimlico practice in South London.